Mayan Riviera Resorts
Known to be one of the hottest vacation destinations not only in Mexico, but all over the world, the Mayan Riviera is an exciting destination to enjoy the tropical atmosphere, the crystal blue waters of the Caribbean, the rich history and the exciting lifestyle of the eastern coast of Mexico. Spanning some 75 miles along the Yucatan Peninsula, a trip to the Mayan Riviera promises to be a trip that is unforgettable. When traveling to this area, booking a room at one of the Mayan Riviera resorts will only heighten your experience.
Azul Beach Hotel
If you want to experience luxury, but a megalithic hotel is not your style, book a room at the Azul Beach Hotel. With only 97 guest rooms, this hotel is small in stature compared to its nearby counterparts, but it certainly isn't small on amenities. While staying at this Puerto Morelos hotel, you'll experience beachfront accommodations, complete with well-appointed guest rooms, a beachfront swimming pool, a restaurant that features five different menus and an all-inclusive package. For an intimate setting along the Caribbean Sea, make the Azul Beach Hotel your home base while visiting the Mayan Riviera. For more information, visit karismahotels.com.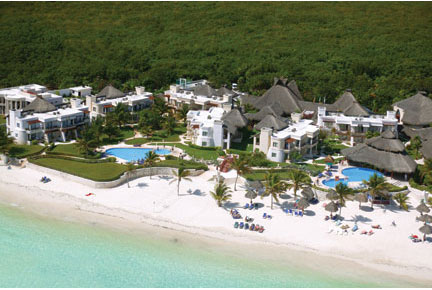 Aventura Spa Palace
Located just outside of Puerto Adventuras, the Adventura Sea Palace is an adult-only Mayan Riviera resort. Whether you're looking to experience paradise on your honeymoon, or you just want to go on a romantic getaway with your partner, this resort will surely meet and exceed your expectations. This 85 acre resort is situated on a protected inlet off of the Caribbean, making it a secluded setting to enjoy the breathtaking beauty of this part of Mexico. Here, you'll enjoy lavishly-appointed guest rooms, restaurants, three swimming pools and one of the most renowned spas in Latin America. You'll also be able to experience the lush landscape of the virgin jungle that surround this resort, including botanical gardens and a breathtaking patio area. For more information about Adventura Sea Palace, visit palaceresorts.com.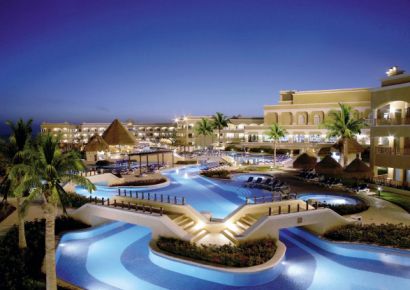 Riu Palace Riviera Maya
For family-friendly accommodations, consider the Riu Palace Riviera Maya. This hotel, located in Playacar, is situated on a white sandy beach and offers an array of amenities that both adults and children are sure to enjoy. The well-appointed guest rooms are spacious and offer every amenity and convenience you could possibly need or want. The resorts all inclusive program features unlimited food and beverage, as well as entertainment for both adults and children. Let the kids enjoy the daytime entertainment program designed especially for children between the ages of 4 and 12, while you partake in the daytime adult activities. When the kids are in bed, slip away to enjoy the adult-friendly nighttime activities, including dancing in the on-site disco, or simply enjoying a moonlit stroll through the tropical gardens. People of all ages can also enjoy the resorts water activities, including windsurfing, catamaran rides, kayaking and snorkeling. Visit riu.com to learn more about making reservations at this Mayan Riviera resort.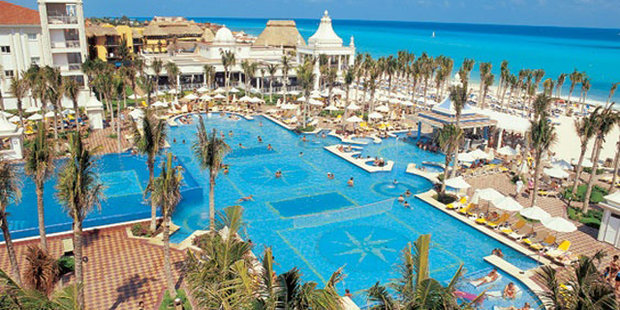 Grand Palladium Riviera Resort and Spa
Situated just seven minutes from the village of Akumal and just 20 minutes away from the famed Playa del Carmen, this Mayan Riviera resort offers lavish accommodations and an all-inclusive package. Whether you're on a romantic getaway with your partner or you're traveling with your family, the spacious guest rooms and suites of the resort offer everything you could possibly need to make your stay a comfortable and enjoyable one. In addition to the well-appointed rooms, you'll also enjoy the resorts many amenities, including access to the beach, swimming pools, daily and nightly entertainment for adults and children, a mini golf course and an array of other recreational activities. For more details and reservation information, visit grandpalladiumrivieramaya.com.